Our creative woodworking program for children ages 5+ is housed in renovated buses and trailers. Each classroom has individual adjustable work benches equipped with hand tools, supplies and materials: everything needed to create a multitude of woodworking projects. This program teaches children creative problem solving and how to use tools safely, effectively, and (ultimately) independent of adult assistance. The buses and trailers go to schools, museums, community centers and private events. We have two buses with 15 workstations each, and two trailers with 16 workstations each, for a total of 62 workstations. Learn more about our Mobile Classrooms here.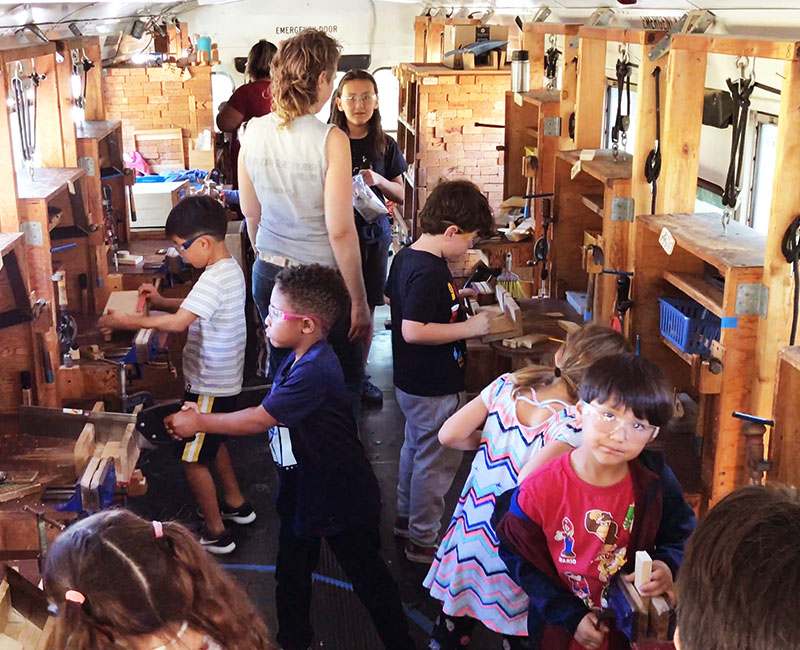 Give your child a memory that's empowering and fun. Side Street Projects' Mobile Education woodworking buses are available for your child's birthday party or private function. Forget about creepy clowns with disagreeable ponies. For roughly the same price, you can give your child an experience that's empowering, educational, and more fun than a bus full of balloon animals.
Request more information below!
Our woodworking youth education program seamlessly integrates CA standards for Art, Math, and Science. The curriculum has been vetted by the LA County Arts Commission who recognizes it as an exceptionally innovative, standards-compliant enrichment program appropriate for core-curriculum integration during the school day as well as after-school.
Request HIRING Information